WHY YOU MUST AUTOMATE AREAS OF YOUR BUSINESS
Automation is key to growing your business, as it saves you more of the most expensive thing in the world – TIME.

The whole point of automating tasks is to make systems more efficient, improve your productivity and maintain consistency in your business.

The less time you have to spend on small tasks that quite honestly, a machine can handle, the more time you have to spend on the tasks that are moving your business forward. I like to call it the 3 Cs: content, connection and creativity.
IF YOU WANT TO GROW, SAVE TIME AND AUTOMATE
Automation really is king. There's no way you can humanly keep on top of sending all the emails, posting to social and creating all the products while keeping your sanity and being able to still be creative to think of ways to grow your business!

By automating certain tasks, your time is freed up to work on those income generating tasks.
This whole DIY Teacherpreneur site is here to help you specifically with the technology aspects of DIY'ing your business.
Let's be honest, you can't hide from technology anymore and it's only going to get more advanced. If you don't embrace technology, you're going to get left behind and miss out on so many wonderful opportunities!
In order to scale up your teacherpreneur business, you need to focus on strategies that reduce cost (DIY'ing) and save time and efficiency (automation).
So let's look at what you can specifically automate in your teacherpreneur business…
3 THINGS YOU CAN AUTOMATE TO SAVE YOU TIME IN GROWING YOUR TEACHERPRENEUR BUSINESS
Investing in digital tools is the best thing for your business – especially automation tools!
Anything that takes your time is expensive as that's the only commodity you have that cannot be replaced or purchased; therefore, the more you can automate the less time you need to spend.
Here are 3 things you can automate in your teacherpreneur business today:
1. AUTOMATE YOUR SOCIAL MEDIA:
Ah social media… A paradox of a necessary business strategy and a dangerous time vortex.
How do you show up on social media without then losing hours and hours down the rabbit hole of memes, beautiful photos, comments, intense debates and TikTok dances..?! 🤦
You gotta automate that ish!
There are some really fantastic tech tools out there that can do all your social media posting for you, leaving you to be much more strict with your time on social media to respond to comments and make meaningful connections.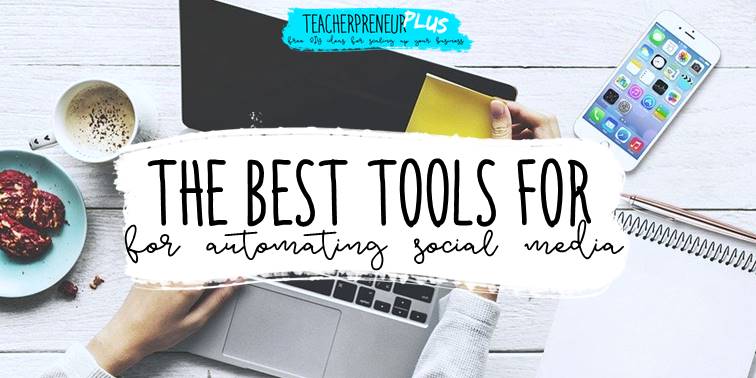 THE BEST TOOLS FOR AUTOMATING SOCIAL MEDIA:
🖥️ For Facebook and Instagram scheduling: TRY SMARTERQUEUE
This is a great tool as it can schedule a few different social media platforms. It does schedule Pinterest too but honestly I find it a little clunky and slow to schedule; I prefer to use something else for Pinterest right now.
SmarterQueue is smart (haha) as it has categories for you to post in, helping you schedule out different content throughout the week.
You can also have different businesses in one account, different Facebook groups, Instagram accounts etc. and you can see your schedule on a calendar giving you a fab overview of the month or week.
There are so many other great features, I'll have to do a whole article and video on this alone to show you its full potential, but definitely worth trying out.
If you would like to try it out, use this specific link to try SmarterQueue and you will receive a DOUBLE free trial of 30 days to give you a chance to see if it works for you too.

🖥️ For Pinterest scheduling: TRY TAILWIND
This tool is very widely known in the TpT world, but it is great at keeping a constant stream of pins flowing out into the Pinner-sphere! The analytic tools on Tailwind are also really helpful in helping you analyse your Pins and content.
If you're not currently on it and you'd like to try, use this specific link to try Tailwind and you will receive $15 when you sign up and try it out!
🖥️ For general automations: TRY IFTTT (IF This, Then That)
This is a very handy tool that can cover a whole range of bases and actions! You can create If… Then… actions for so many different things! The best way for you to understand is to just get playing on it and you'll see what I mean! It's totally free, give it a go and see how it could help you!
Reminder, if you choose to start free trials with any of the affiliate links mentioned in this article, it won't cost you anything extra (often you get a better deal, actually!) and I am happy to offer you one on one support for using any of these programs as they are what I use consistently in my own business.
Simply reach out to me via email and I can create videos for you or talk you through how to use them specifically for your TpT business or extended teacherpreneur plans!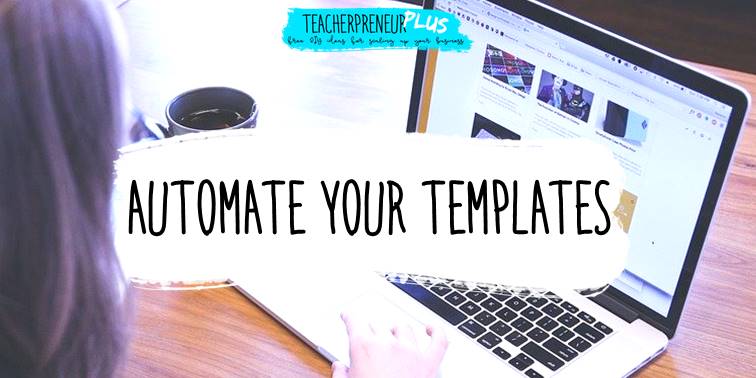 2. AUTOMATE YOUR TEMPLATES
When it comes to content you are putting out regularly, be it social media posts, blog posts, pins, covers, tiles, PDFs, e-books, downloads etc. the best way to "automate" your production time in these scenarios is by using templates.

Once you have one standard design, layout or theme, it becomes a case of dropping new content in an existing template which is going to save you time and creative energy.

You can use anything for these, they don't have to be fancy! You could simply design them in PowerPoint / Keynote or if you want, you can use online tools such as Canva to help you with the design layouts.

Whichever tools you use, templates are a fantastic way to save time and increase productivity!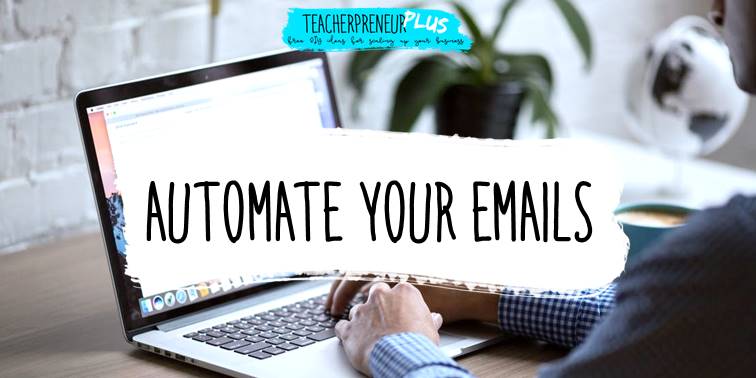 3. AUTOMATE YOUR EMAILS:
Automate your emails! This is presuming you already have an email collection service, if not you better get on that ish, fast!
You need to be collecting emails and nurturing those people. It really is the only audience you can control. Who knows what will happen to your social media audiences some day, it's best not to rely on them more than your list.
If you're interested in getting started, I have had experience with Mailchimp, ConvertKit and Mailerlite. In my experience, Mailchimp wasn't advanced enough, ConvertKit was far too expensive and so my inner Goldilocks thinks that Mailerlite is juuust right!
It does all the things you need from an email collection service and at a reasonable cost. If you want to try it out, you can use my affiliate link: TRY MAILERLITE.
If you sign up with this link and find you need more support with getting started on emails and how to use this for your business, reach out to me at katie@teachersresourceforce.com and I will show show you the ropes for free!
Once you are collecting emails, you need to make sure you are nurturing your list. That means emailing them frequently (but not too frequently) and letting them know more about you and what you can offer. If you would like to save time in figuring it all out, you can download some free templates to get you started, below:
NURTURE YOUR EMAIL LIST WITH THESE TEMPLATES
Now that you have identified which systems you would like to automate, you need to get creating content for these systems to work! Fortunately, just like your teaching resources, once you have created them you can continue to benefit from them for years to come so it is certainly time well spent.

If one of the systems you would like to implement involves an email sequence (and I highly recommend you do this for both your TpT store and whatever extension you are building) then you will need to come up with some emails to send your list to warm up your audience and continue to provide them value.

That can take time. Where do I start? What do I say? How many times should I email them and how often? I know, so many questions!

If you want a starting point to get your feet off the ground, you can download these nurture email sequence templates for free, below: